Business context
Asset data management solutions with automated integration into your ITSM solution are paramount for an efficient IT service delivery. Accurate asset data collected from various system and device feeds and then automatically corelated, validated and enriched with additional knowledge and threat data is key to ensuring first time fix and fault resolution.
Many ITSM vendors provide asset management solutions but these require constant manual updates and audits to ensure they do not become out of date. Inaccurate asset data adds to support issues rather than helping to resolve them.
A solution is needed that can cope with multiple information sources and automatically ensure up to date and accurate information is available when and where needed.
Our Solution
Expertware has developed and integrated a proprietary asset management solution for end user devices, servers and network equipment hosted across hybrid cloud environments.
Asset data is automatically collected from multiple sources (Azure, AWS, VMware vCloud, Active Directory, O365, Intune, System Center, Monitoring tools, Software Licensing) and imported into a staging area.
In the staging area election rules are applied ensuring that the CMDB golden set is enriched with attributes gathered from all sources
Duplicates are detected and the system creates an updated "Golden set" which triggers automatic refreshes for the subscribed systems.
Records pertaining to the same assets, originating from different sources, are detected and grouped automatically allowing a single "golden record" to be created and distributed to subscribed systems.
Exceptions which cannot be reconciled automatically are flagged and escalated for manual resolution along with a suggested resolution proposal.
CMDB teams review the resolution proposals and decide the correct updates using familiar toolsets like Excel MDS plugin or Expertware's asset inventory web app.
Data inaccuracy and fragmentation are eliminated, laying the foundation for true business intelligence and reporting across heterogenous systems.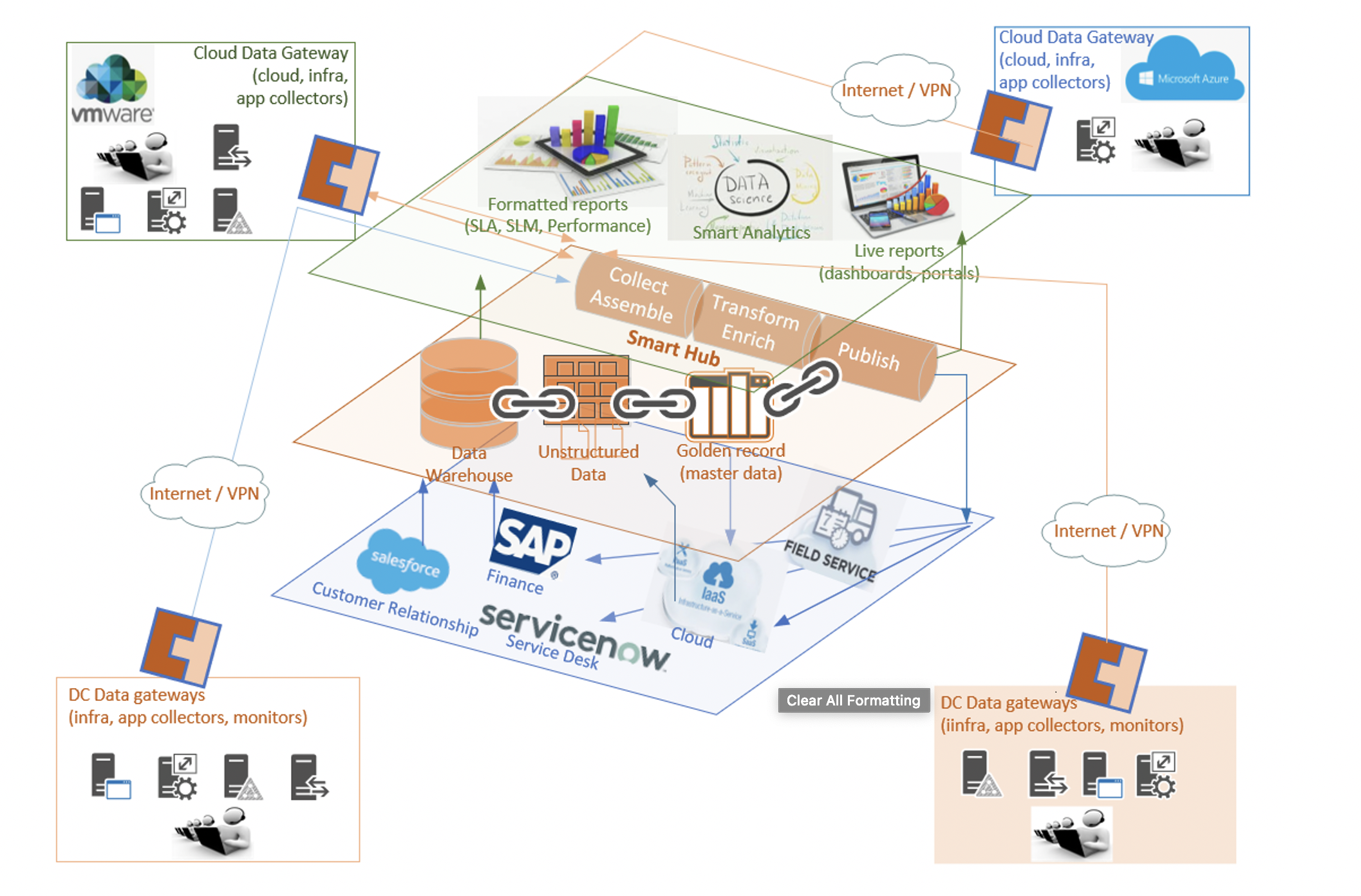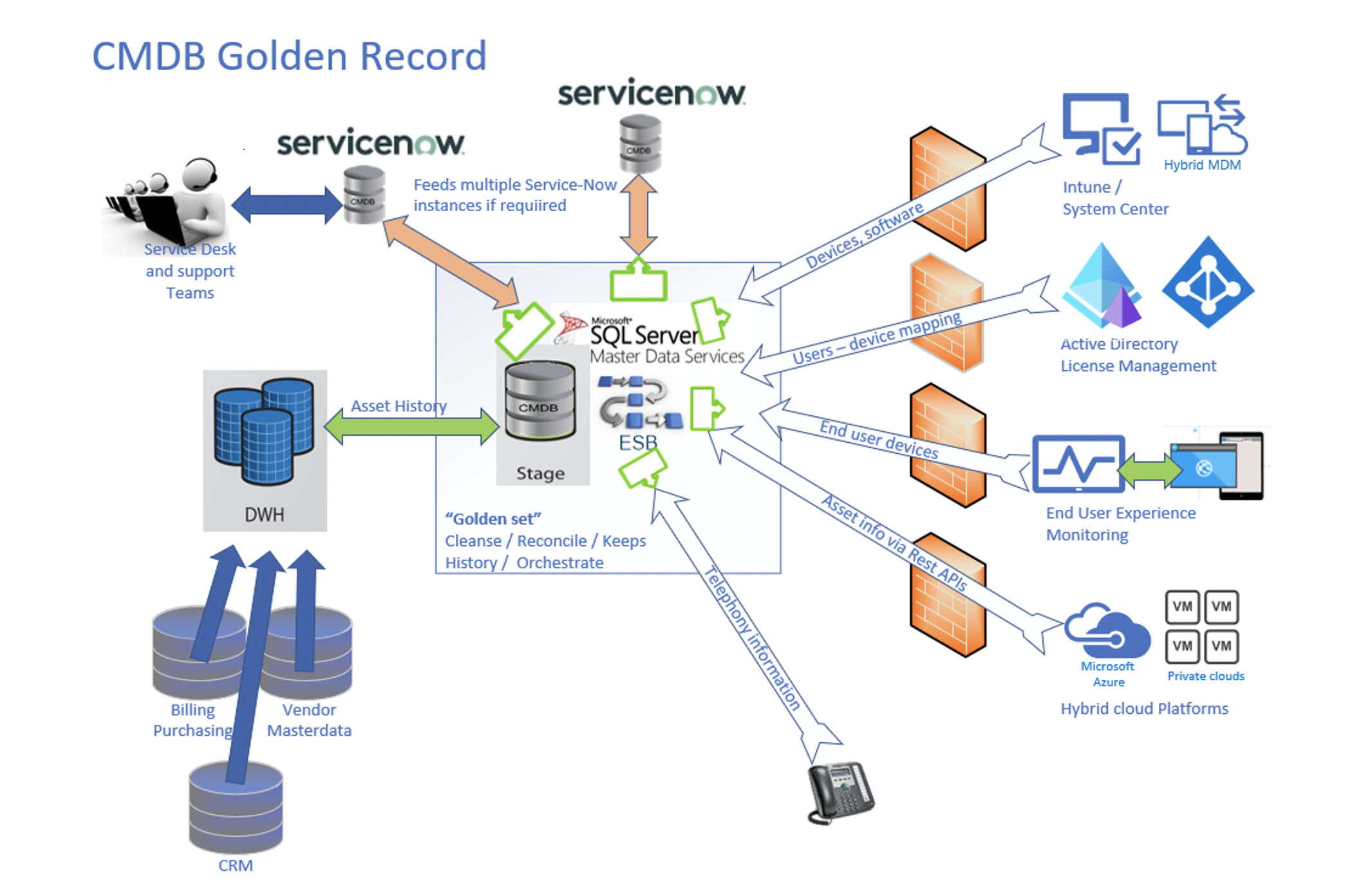 CMDB Integration Add-on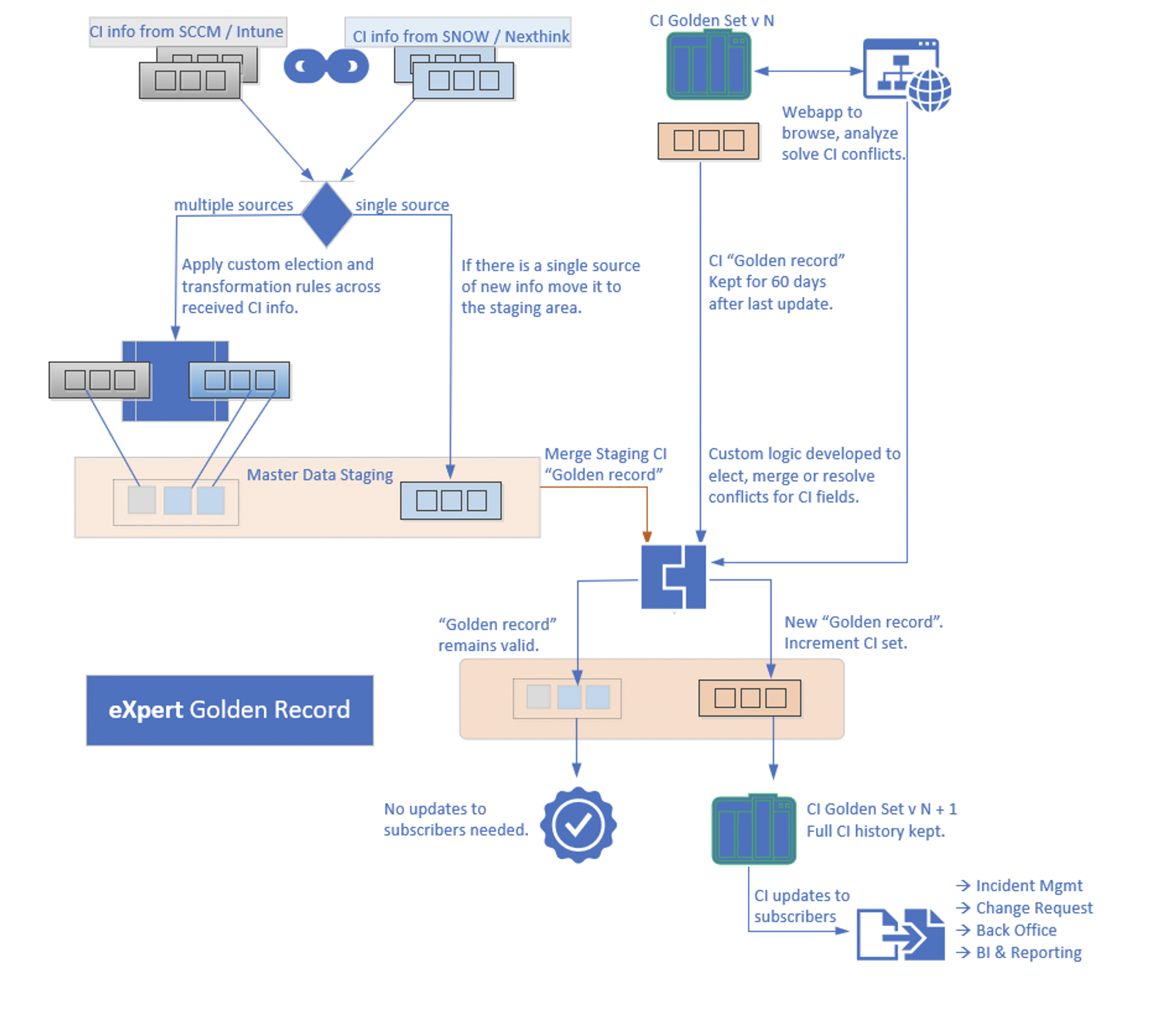 Our Experience
With over 15 years of experience in the field of IT architecture and managed services, we are confident that we can offer to our customers a team with very strong technical knowledge and a deep understanding of the IT architecture models and solutions in place. Our people will become a trusted part of your team.
For each customer, there is a solution architect supervising the activities of the operation team guaranteeing a continuous review and optimization for monitoring and alerts, automated response flows ensure rapid responses but always under the guidance and oversight of our expert technicians.
We aim to provide state-of-the-art SIEM services to our customers so that they can continue their business safe in the knowledge that strong protection is in place.
Integrated Solutions
Integrated 24*7 operation centre.
Analysis of IT architecture design to select the best SIEM solution and processes to meet your business objectives and needs.
End to end the collection of monitoring data, events, and alerts.
Human and AI analysis of event data.
Real-time global threat searches and patch automation.
Operational management for KPIs and executive dashboards.
Our Added Value
One-stop-shop for configuration, monitoring, analysis, and event management.
Strong competences, certified engineers (SQL Silver Data Platform, T-SQL/SSRS/OLAP, Business Objects, SAP BW, Elastic).
Can-do attitude, accepting and completing difficult challenges.
Cost efficiency combining near shore with onsite resources and eliminating overlapping roles through our integrated operations centre initiative.
---
Click on the link below to schedule a call with one of our subject matter experts.

Let's have a talk
Set up a meeting