Business context
Managing the service lifecycle for multiple customers and environments can quickly become a complex operation. Keeping track of configuration Items (CI's) under support, ensuring contract pricing reflects the services being provided, keeping contracts up to date whilst tracking changes, and generating clear invoices that are accurate for a changing landscape of services and supported assets, can be a headache for all MSP's.
A clear solution is needed that can provide real time visibility of how each contract is performing so that trends can be identified, and any required corrective actions can be implemented quickly and transparently.
Our solution
Expertware has created an integrated set of services that together solve the difficulties inherent in implementing Service Lifecycle Management (SLM).
xPertSLM integrates the following Expertware solutions:
xPertRecord: gathering data from multiple sources to create a single gold record for each CI under contract.
xPertPrice: Used the data from xPertRecord along with custom pricing algorithms to accurately price and track contract value
xPertContract: Stores digital copies of contracts and manages changes during the contract lifecycle so that you always know what contract terms were in place when.
xPertTime: gathers time related data such as timesheets for work carried out under the contract.
xPertInvoice: Utilizes data from xPertRecord, xPertPrice, xPertTime, and xPertContract to generate accurate invoice for any given time period.
All data is segregated by customer and by contract to enable the full contract lifecycle to be managed using integrated data streams and custom workflow solutions. Configurable reports and dashboards are provided giving clear visibility of the contract path. The solution is priced using a subscription model based on the number of CI's under contract.
xPertSLM adds Value by:
Generate accurate data about CI's from all available sources of information.
Quickly and accurately price services based on CI's.
Capture Pricing and contract agreements using block chain.
Track Contract evolution – Know exactly what agreement was in place when.
Keep CI data up to date throughout the contract.
Identify misalignments between expected and actual resource utilisation.
Positive feedback loop allowing real word experience to drive pricing models.
Accurately invoice the customer at each stage of the contract based on contract amendments and real time CI data.
Generate reports and dashboards that are clear and accurate.
Build trust and drive contract renewals.
Contact Expertware today and see how we can support your managed service teams across the Service management lifecycle.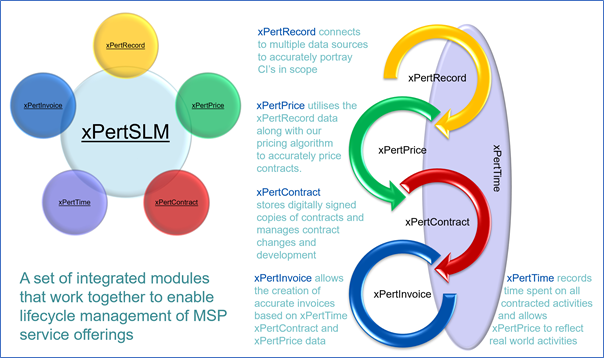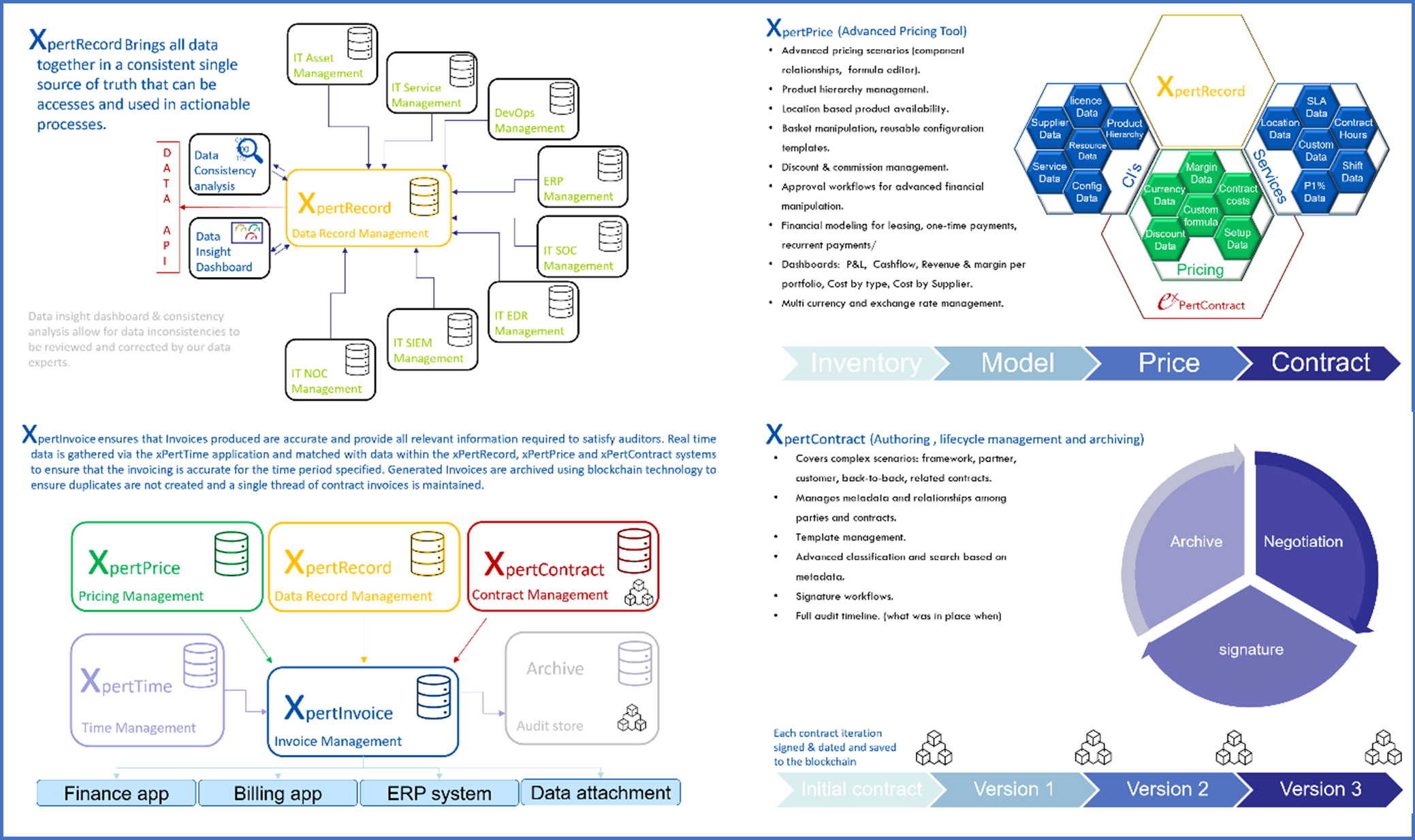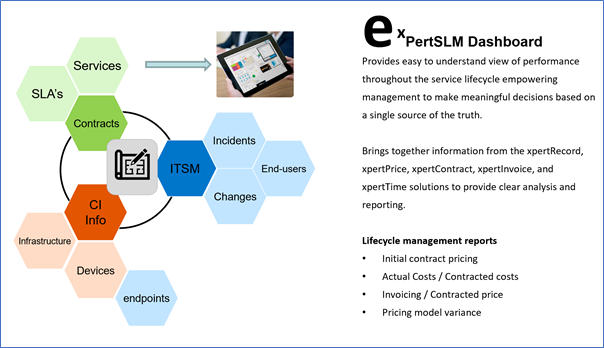 Our experience
With over 15 years of experience in the field of IT architecture and managed services, we are confident that we can offer to our customers a team with very strong technical knowledge and a deep understanding of the IT architecture models and solutions in place. Our people will become a trusted part of your team.
For each customer, there is a solution architect supervising the activities of the operation team guaranteeing a continuous review and optimization for monitoring and alerts, automated response flows ensure rapid responses but always under the guidance and oversight of our expert technicians.
We aim to provide state-of-the-art SIEM services to our customers so that they can continue their business safe in the knowledge that strong protection is in place.
Integrated Solutions
Integrated 24*7 operation centre.
Analysis of IT architecture design to select the best SIEM solution and processes to meet your business objectives and needs.
End to end the collection of monitoring data, events, and alerts.
Human and AI analysis of event data.
Real-time global threat searches and patch automation.
Operational management for KPIs and executive dashboards.
Our added value
One-stop-shop for configuration, monitoring, analysis, and event management.
Strong competences, certified engineers (SQL Silver Data Platform, T-SQL/SSRS/OLAP, Business Objects, SAP BW, Elastic).
Can-do attitude, accepting and completing difficult challenges.
Cost efficiency combining near shore with onsite resources and eliminating overlapping roles through our integrated operations centre initiative.
---
Click on the link below to schedule a call with one of our subject matter experts.

Let's have a talk
Set up a meeting